Scale Your Direct CSP Business With
Cloudmore's CSP Optimizer, built on top of the Cloudmore Digital commerce platform empowers Direct Microsoft CSPs to streamline processes, optimize operations, and deliver exceptional customer service. With unparalleled billing accuracy and transparency, seamless integration with the Microsoft Partner Centre and Azure Portal, and detailed reporting and analytics, Direct CSPs can achieve unmatched efficiency, compliance, and governance.
By simplifying subscription management, improving the customer experience, and providing dedicated post-sale support and training, Cloudmore's platform enables Direct CSPs to unlock their full potential, retain customers, achieve faster growth, and increase margins.
Cloudmore helps Direct Microsoft CSPs to meet the Microsoft program requirements, facilitating the delivery of exceptional customer service by streamlining the price management, billing, and provisioning of Microsoft 356, Azure, and other services.
Our Direct CSP customers hail from all over the world and have experienced substantial growth since implementing Cloudmore.
You can read our customer case studies here.
Download our CSP Solution Brief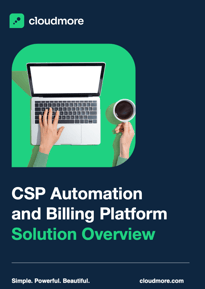 The Cloudmore CSP Difference
100% Reconcilable Billing
Reliable billing starts with robust pricing and subscription management process and Cloudmore support this across all Microsoft CSP Services
Resources:
Customer Self-Service Portal
Customer self service is essential to improve the customer experience and keep operational costs under control. Your customer will be able to securely manage their CSP services, while you are complete financial control
Resources:
Fast time to value
The Cloudmore Direct CSP deployment process with Cloudmore is very streamlined. After authenticating your Microsoft partner center token with Cloudmore, you can link the tenants, and all current and historical data will synchronize to Cloudmore. If you use custom pricing for customers, you will need to configure your global or per customer pricing and then be ready to receive the latest billing data from Microsoft on the billing date.
Resources
It's all about your business transformation

Complete synchronization
with Microsoft billing rules simplifies
the billing process

Accurate,up-to-date pricing
with Automated, monthly API-based price list synchronization.

Eliminates revenue leakage
and enables easier issue resolution with 100% Microsoft invoice reconciliation.

Full traceability
of customer and operational team actions, including detailed reporting of subscription changes.

Constant, timely updates
to keep in lockstep with Microsoft CSP program changes

Renewals made easy
Robust, risk-reducing renewal
notifications and reporting.